Hendrix Genetics opened a new business unit in China at the end of 2022 to serve the Chinese market with high quality genetic solutions in shrimp, swine, traditional poultry and layers. "Achieving growth in China is a key area of focus with the guiding principle of breeding and genetics 'in China, for China'. Through this model, we believe we can unleash the potential of Hendrix Genetics by providing high-performing products that meet the needs of the market," the company said. The Chinese business unit is being led by managing director Ji Chen.
"The China business unit was established to operate fully within its own region, focused on all Hendrix Genetics' species and products and specifically adapted to the Chinese market," David Danson, director of operations and shrimp, told Hatchery Feed & Management at VIV Asia.
Hendrix Genetics sees the shrimp business as a great growth opportunity in the Chinese and Vietnamese markets, as well as a way to acquire developed market shares in Indonesia and India. "We are working on our existing Chinese market share and are building on that, similar to what we did in Indonesia and India. In these countries, we had established markets and products, identified the right partners for joint ventures and then set up a local production facility. With the establishment of the business unit in China, we now have a legal entity in China that allows us to build long-term relationships with customers and partners, and most importantly, support a team of experts based in China," Danson stated.
The growing shrimp market
Hendrix Genetics has three lines delivered from Kona Bay in Hawai'i: Kona Bay Speed for fast growth, Kona Bay Strength which is a more robust line, and Kona Bay Balance which is a mixture of the other two lines, all three being SPF. The company has a fourth line in Ecuador, specifically bred for this market since they cannot import or export from there. "In Ecuador, we've established a hatchery with Skretting and Ecuacultivos with a production capacity of 420 million PLs per month," Danson explained.
In Asia, the company has another line, only in Malaysia, which is SPT. "This is a very robust, slow-growing line, and we will likely use it when we develop the program in China," Danson said.
"We have five products, and we aim to have a product adapted to each market. Our model is structured with multiplication centers (BMCs) for each country providing farmers with the best genetics and giving them support," Danson said.
The company already has a multiplication center running in Indonesia and is building a new one in India as a joint venture with Sapthagiri Hatcheries, the largest shrimp juvenile company in India. The new facility is expected to be finished in May, operational in August and begin sales in January 2024.
"We are looking for partner facilities in China, Vietnam and potentially Thailand, but basically any area where we have a good product performance, there's a demand and we can find the right partners," Danson explained.
When building a BMC, one of the challenges is biosecurity and maintaining SPF status. "It is a risk we have to manage with the right site location, water supply, right staff and infrastructure. It also depends on which country you are in. For example, India has more challenging water conditions than Bali in Indonesia. We have different systems in the different BMCs, but it is also about managing the risk of pathogens that are present in the environment and maintaining high biosecurity procedures with quarantine areas. This also depends on the country as we have to adapt to the local regulations. In India, they have a government quarantine facility and PPLs have to be there for 15 days. In Indonesia, we can do the quarantine in our own facility for 14 days," Danson explained.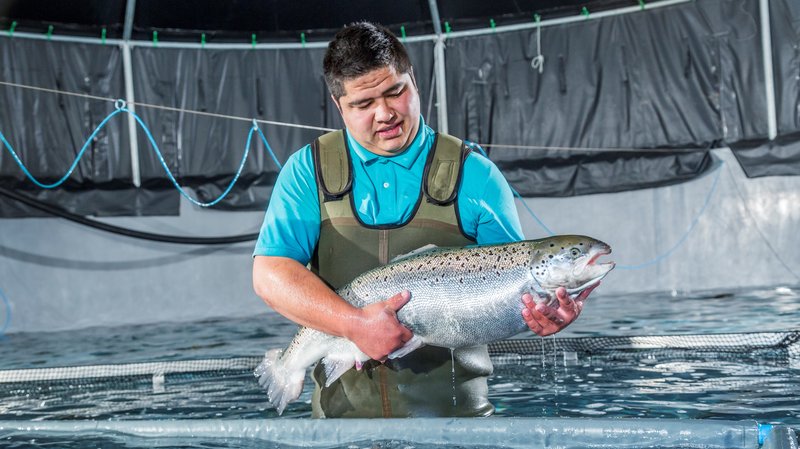 Credits: Hendrix Genetics
The salmon business
The salmon business is different from the shrimp business since the company also manages breeding programs for third-party companies, next to its own salmon lines. The company has two facilities, in Chile and Scotland.
In Scotland, the company manages the breeding programs for one of its clients, and rears smolts in freshwater, which are supplied to clients to be grown until harvest in seawater. "We do the same in Chile with a very large salmon producer where we have been providing breeding and genetic services on their own breeding program for almost 20 years now," David Danson said. In Chile, Hendrix Genetics grows its own salmon line, together with running a Coho and Atlantic breeding programs for two key clients.
Leading the trout segment
Hendrix Genetics acquired Troutlodge in 2017. The company is the largest trout egg producer in the world with six facilities in the US. It produces all-females and triploids exporting to LATAM, Europe and Middle East.
Troutlodge recently set up a multiplication center in Peru with Coraqua and runs another one in South Africa. "We have four trout lines and they all spawn at a different time in the year which means we have continuous year-round production. The company works on resistance to various cold water diseases and our trout is very fast growing and resilient," Danson stated.
Looking forward, the company is always monitoring species that could be candidates for future breeding programs. "Entry into new species would depend if the industry has the capacity to support the cost of a breeding program," Danson concluded.
Hendrix Genetics has a rich history of dynamic growth. Within key regions of opportunity, the company aims to deliver excellent products with the goal of sustainably feeding a growing population.