Troutlodge reported that its Colombian distributor Truchas Surala is currently proving the advantages of the company's strains over a European competitor strain. Results are showing that Troutlodge strains in the Colombian market are proving superior against other strains from a European competitor. Weight and size results were shared among three different farms in Colombia with two different strains.
The growth trial comparisons used 60,000 eggs per strain per farm with an average temperature of 10.5°C. All results were averaged in the graphs below and the day of the arrival of the eggs is represented as day one.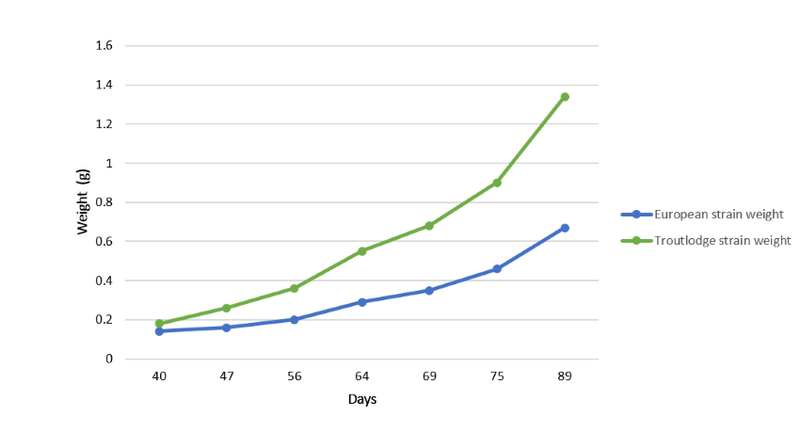 Troutlodge presented greater weight at all sampling points compared to the European strain. In addition, Troutlodge reached twice the weight, 100% more, on day 89 compared to the European strain.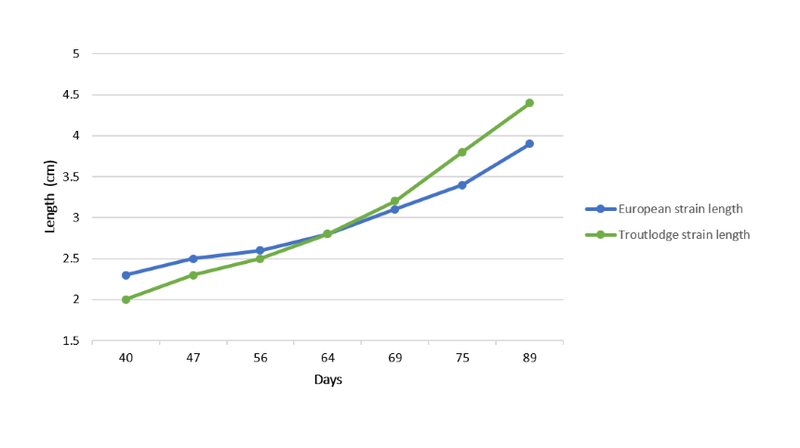 The European strain showed to be longer at the beginning and on day 47 it is 0.2 cm longer than Troutlodge. However, Troutlodge quickly overtook the European strain on day 64. Thereafter, the difference in length becomes greater in favor of Troutlodge and by day 89 Troutlodge is 0.5cm longer than the competitor European strain.
The company also found that the dispersion of their batch was less, the mortality was 20% lower and they reacted faster to feeding stimuli.
"Thanks to the test that some clients of our company are doing, and they very kindly shared with us, we were able to draw strong conclusions that leave us no doubt that we are working with the best," Troutlodge said.