Tilapia farming is practiced throughout the world. The largest producer country is China (1,241,410 t), followed by Indonesia (1,172,633 t), Egypt (954,154 t), Brazil (343,596 t), and Thailand (205,971 t) (FAO, 2022).
China has built up a large tilapia farming industry in its southern provinces and is now the largest exporter of tilapia. In parallel, alternative suppliers in Southeast Asia and Latin America have increased their exports, at the expense of China. While China remains the dominant tilapia supplier, the imposition of import tariffs by the United States of America on Chinese tilapia, combined with logistical challenges related to the COVID-19 pandemic and the repurposing of land in key production regions, means that this dominance is expected to decline (FAO, 2022).
China
China's tilapia industry started in the 1960s, entered a period of rapid development after the 1990s, began to slow down in 2008 and entered a stable period from 2015 to 2018, with stable production at about 1.58 million tons.
"China's success as the top tilapia producer can be attributed to several factors, including government support, extensive infrastructure, vast resources, and a well-established domestic market. The country has invested heavily in aquaculture research, technology, and training, which has allowed for the rapid expansion and improvement of tilapia farming practices," said Hideyoshi Segovia Uno, general manager at Benchmark Genetics Tilapia.
"Tilapia is the cheapest source of aquatic animal protein in China, which has provided a good and cheap choice for ordinary people for a long time. Since 2002, the proportion of tilapia production used for domestic consumption has been declining year by year, and in 2009, the proportion of domestic consumption was lower than 50%. Tilapia became an export-oriented variety. Dependence on the international market is increasing and this has also led to the instability of market demand and the increase of uncontrollable factors, thus affecting the confidence of farmers," Michael Zheng, product manager, Skretting China, said.
"Reports suggest that low prices and tight margins have driven some tilapia farms in China to switch to other fish species, such as largemouth bass, which can generate better profit margins," said Ben North, technical director at PHARMAQ part of Zoetis.
"In recent decades, China's aquaculture industry has developed rapidly, with the emergence of many new aquaculture varieties. People's living standards and income levels have improved, and there are many alternatives to choose from. Tilapia has formed a cheap and low-end perception in China," Zeng said.
"As for the future, I think we will see a shift in China towards farming of higher value fish species and I believe that we will view China as a market for premium aquaculture products. Wealthy Chinese consumers have become more demanding when it comes to their expectations around sustainability and quality of the food that they consume. As a consequence, we are seeing a growing interest in preventative fish health management and tools such as diagnostics and vaccines," said North.
"Looking forward, China may face challenges related to environmental sustainability, disease management, and international market demands for higher quality and certified products," Segovia Uno said.
Indonesia
While Chinese tilapia production is slowing down, Indonesia is on a steady growth trajectory with most of the tilapia produced for the domestic market. "From about 1.2 million tons of tilapia produced in 2022, Indonesia is expected to produce around 1.4 million tons this year. As in all tilapia-producing countries, disease control is a key challenge. As such, the Indonesian sector needs to have adequate tools for tilapia health management practice to maintain sustainable growth. Health through nutrition is a key component in this mission," Yoav Rosen, global marketing director, Aqua, ADM Animal Nutrition, said.
"The country has common challenges with China such as disease management, environmental sustainability, and the need to meet international quality standards. Focusing mainly on growth traits may lead to unintended consequences, such as reduced robustness or increased susceptibility to diseases. A balanced breeding approach that considers multiple traits, including disease resistance, stress tolerance, and feed efficiency, is crucial for long-term success," Segovia Uno said.
Arjen Roem, marketing manager, Nutreco SEA, sees challenges in farm management – water quality and disease control – and survival. "Opportunities will be in value-adding when developing from strictly wet markets to supermarkets and convenient food services."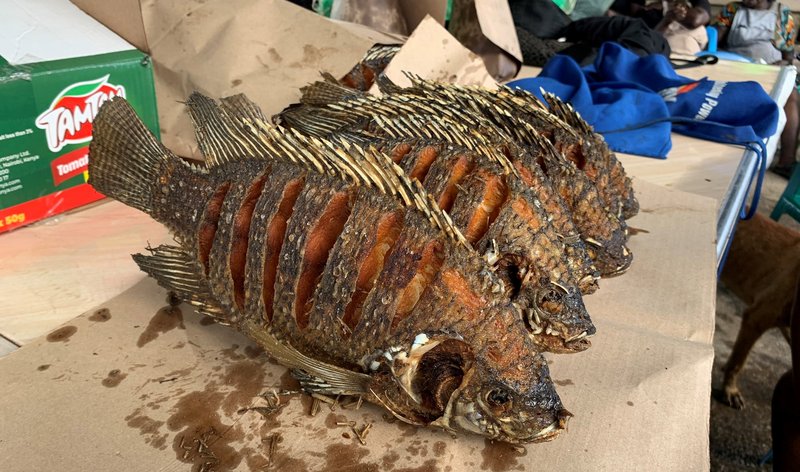 Credits: PHARMAQ part of Zoetis
Egypt
The country has been farming tilapia for centuries and production has stagnated. The main key developments that allowed the growth of the industry were based on strong government support, the introduction of improved strains, the adoption of technology, the growth of the domestic feed industry, and the increasing domestic and regional demand. The majority of tilapia production in Egypt comes from small-scale producers, who focus on producing at low cost and in large volumes.
"This approach allows them to be competitive in the market and meet local demand. However, it can also limit the adoption of new technologies and management practices that could improve sustainability and long-term profitability. There could be room for improvement through further genetic improvement, biosecurity, adoption of best practices, and encouraging value-added processing to increase competitiveness in both domestic and international markets," Segovia Uno stated.
Brazil
Latin America is currently the fastest-growing tilapia production region. "This growth is driven by Brazil with a CAGR of 8.3," said Rosen.
Brazil has enormous potential to expand its tilapia production, thanks to its favorable climate, abundant water resources, and growing domestic market. "Brazil has vast experience in commercial farming in other species, good access to locally produced high-quality feed, local professional genetics providers and plentiful freshwater," said Simon Hill, senior business development at the Center for Aquaculture Technologies (CAT).
"Projections for the future suggest a continued expansion of tilapia farming in Brazil, with an increasing focus on sustainability and responsible practices," Segovia Uno said. "Sustainability will be crucial to Brazil's success in the tilapia industry, including adopting environmentally friendly farming methods. Investing in research and development, promoting genetic improvement, and implementing robust biosecurity measures will also be key factors."
"In the current expansion phase, the collaboration between all stakeholders – farmers, academia, suppliers and authorities – will be important to facilitate healthy and sustainable growth," said Terje Tingbø, head of commercial development tilapia at PHARMAQ part of Zoetis. "Maintaining a good farming environment, minimizing the footprint and optimizing health and welfare will be essential. Key factors for success are competence, breeding, nutrition, preventative fish health management and governmental regulation. A strong focus on these will help strengthen product quality and reputation, establish export markets to improve profit margins, and enable further investment in sustainable technologies."
Sub-Saharan Africa
Tilapia is currently the most farmed fish in sub-Saharan Africa. "However, relatively to the Chinese, Egyptian and Brazilian, the Sub-Saharan tilapia production is still in low volumes. Some countries are taking the lead in tilapia production in Sub-Saharan Africa, such as Ghana which shows that tilapia production in this area can be a success. But new actors are coming, such as Kenya and Uganda, and are starting to increase their production with a better organization of the sector (e.g., feed mill, genetics, farm management applications…, etc.) and new investors. But the availability of good and economical quality tilapia feed, particularly at early life stage will be a key element to support the growth of the tilapia Sub-Saharan sector," said Rosen.
"Sub-Saharan Africa's tilapia market has significant growth potential but faces challenges such as limited infrastructure, investment, skilled labor, and supply chain development. A tailored development model that emphasizes local resources and community involvement can foster sustainable growth," said Segovia Uno.
"There needs to be government-level support for the industry to encourage high-quality feed, genetics and health access within Sub-Saharan Africa. A collaborative approach should be adopted, and barriers to shipping raw materials – including genetics – across international borders within Africa should be minimized," Hill said.
"The industry is still relatively immature, but some companies are already showing the huge potential of the region for tilapia production and also the strong demand that exists from local markets to consume farmed tilapia," North said.
"In the coming decades, the demand for animal proteins will grow, especially in Africa. Governments of African countries are promoting the aquaculture industry as they want the countries to be more self-sufficient and rely less on imports. A country does not necessarily need large-scale farms to produce large volumes of fish. Nigeria is a great example of how an enormous group of small-scale farmers produces vast amounts of fish for local consumption," Tanja van Dongen, species manager freshwater at Nutreco Middle-East & Africa Expo, concluded.
Don't miss the first part, Tilapia farming I: Genetics, diseases and scale challenges.